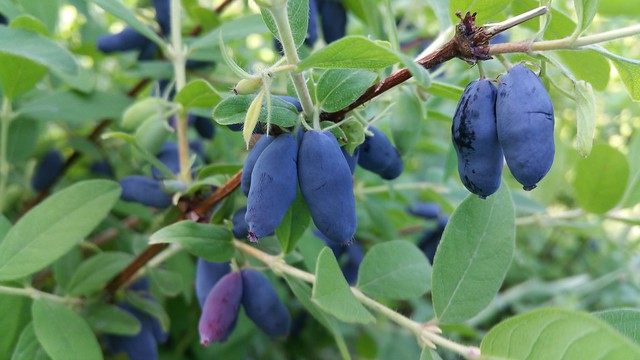 Lonicera caerulea, the honeyberry, haskap berry, blue-berried honeysuckle, deepblue honeysuckle, or sweetberry honeysuckle
Honeyberry plants (Lonicera caerulea) are non-invasive relatives of the honeysuckle that produce clusters of unique, elongated berries with a high level of antioxidants and a sweet, blueberry-like flavor that is good for fresh eating or making preserves.
We recently had the opportunity to purchase some honeyberry plants from Todd at Great Escape Farms (https://greatescapefarms.com/) - You need two varieties of honeyberries to cross pollinate to produce a good harvest, so we planted the "Blue Sky" and the "Blue Moon" types. We decided to plant these near our peach trees on the northwest side of the property.
They plants should hopefully produce their square-shaped blue berries in 2-3 years. The honeyberry plant can grow to 5' tall and produce for over 30 years. These buses are supposed to be cold-hardy and can be cultivated as low as zone 2.
The History of the Honey Berry
From Love Honeyberry Orchards:
Honeyberries were originally harvested in the wild in western Russia, northern China and northern Japan over many centuries, where it has been treasured and used in folk medicine for centuries. This blue member of the honeysuckle family (Lonicera) was not officially documented until 1755 in the 'Description of the Land of Kamchatka' by Russian explorer Stepan Krasheninnikov.
Agricultural research to develop this berry into a commercial crop began in the former Soviet Union in the 1950s with selections primarily from Lonicera caerulea, kamtschatica, edulis, altaica and boczkarnikowae. In the 1970s, a research programme was started in Hokkaido, Japan, to develop selections from their local subspecies, Lonicera emphyllocalyx.
The honeyberry was introduced to North American growers back in 1996. Often one of the first berries to ripen - up to two weeks before strawberries. The flavoursome berries are packed with healthy treats like antioxidants, active polyphenols, pectins, tannins, and vitamin C. They are rich in minerals, and the berries potassium content of 70 mg is twice that of Blackcurrants, Raspberries, and Blackberries.